X-Setup 5.6
Download Now!
In the beginning there were many. As time went on, there became even more. But now there is only one. One program that can do it all, that stands head and shoulders above the rest. X-Setup 5.6.
X-Setup is the über-tweaking program. It has the most comprehensive list of tweaks (reportedly over 500) for Windows 9x/NT/2000 systems anywhere. Nearly everything is covered from appearance tweaks to Windows NT Cache size adjustment.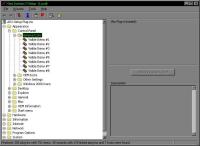 The interface deserves special mention. With the sheer number of tweaks, you would expect it to be hard to use. Not so. Everything is arranged in a explorer-like tree view. Under the major categories of Appearance, Hardware, Information, Internet, Network, Program Options, and System, you can easily see if the tweaks you need are there. There are back and forward buttons for navigation as well, making it even easier to change options.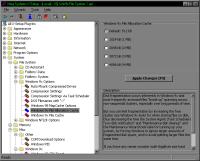 X-Setup provides information as to what all the tweaks do. This is a bonus if you're not sure if you should apply the particular settings. System critical tweaks (ie ones that may make your system unstable/unusable) ask if you're sure if you want to change the settings, and have an orange background. Any settings that require a restart will have the word RESTART at the bottom of the window.
Other feature include a record option which will track changes made and allow you to undo changes that didn't work; a search utility that makes finding tweaks even easier; and wizards for applying multiple tweaks at once.
Aside from a few missing tweaks (that are really just personal preference), X-Setup 5.6 has everything you will need to keep your Windows system at top level performance.
Rating=95%
Other Images


Questions? Ask in the forum or email me.

For the Privacy Policy, click here.